Despite of good diet and maintaining healthy lifestyle, one can often face health problem. It is inevitable concern. To add up health problem mostly comes un-noticed. Be it a sudden health issue or a long -term concern, we all want to take the best possible care of our own and our loved one's health.
As is is rightly said that health is wealth, no one wants to go casual regarding their health care issues. Also, the right diagnosis at the right time can help overcome many complications. However, finding the right health care centre at the time of panic becomes a tough job. Here are the top five private hospital in Bihar that one may reach out to at the time of need:
 GANPATI HOSPITAL HAJIPUR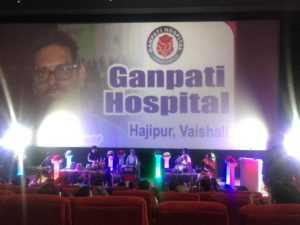 Ganapati hospital is one of the best Private hospitals in Bihar. Being equipped with the most modern technologies and latest surgical instruments and machines makes it one of the most preferred private hospitals of Bihar. It provides around the clock service as it is open 24×7.  Ganapati hospital is a multi-speciality hospital with hosting departments like oncology, Cardiology ENT, dermatology, urology,  physiotherapy, Maternity care, Gastroenterology, General Medicine, General Surgery, Gynaecology & Obstetrics, Orthopaedic, Paediatrics & Neurology.
Ganapati Hospital understands the true meaning of emergency cases and has a specialised designed emergency and trauma care unit with good number of beds, which admits patient instantly. It has modernised ICU and ICCU units to provide the best care. Also it has a specially equipped burn care ward. Ganapati hospital has indoor and outdoor consultation facilities. There is a team of in-house doctors who are highly experienced and experts in their respective fields.
This ISO 9001:2015 certified health care centre, is one the best choices for all health-related issues at very nominal and affordable cost, as it believes in providing health care facility for all. Its location adds up to its convenience. As it is located at Hajipur, and is just 10 KM from Patna it is quite easy and convenient to reach.
Ford hospital
Located at Khemnichak, New Bypass, Patna Ford hospital is one of the oldest private hospitals of Bihar. It is a well known hospital for dialysis facilities. It also has a dedicated cardiac care unit for all related issue. Other than this, its departments include laparoscopy, General Medicine, General Surgery, Gynaecology, Paediatrics etc.
Paras hospitals
it is a group of hospital and care units by paras groups. There are several branches to give the best possible care. It has good facilities of all modern technologies. It specializes in Ortho treatments. It has a large group of in-house doctors to provide the best care for all your needs. It also has several facilities for international patients.
Jagdish Memorial hospital:
It is situated at DS – 2, Lohiya Nagar Behind Geological Survey of India, Kankarbagh Patna Jagdish Memorial hospital is a popular choice, when it comes to private hospitals. It has one of the most sterilized and modern operation theaters. Other than housing various kinds of departments, it maintains a strict hygiene, as it believes in prevention over cure. Its dedicated team of experienced doctors help and reach out to patients even in the darkest hours.
Aasthalok hospital
As the name suggests, this private hospital has been a popular choice of people for years. Located at N/4, Professor Colony Near Kendriya Vidyalaya Kankarbagh Patna – 800020, this expertise in its critical care units. Its ICU , NICU, PICU and ICCU units are well equipped and has facilities for all kind of intensive cares.  Its convenient location adds up to its popularity.
Thus, in today's rush it is not always possible to get treatment in the government hospitals. Sometimes it is due to the long Que and sometimes due to lack of utilities. However, these private nursing homes are a good choice for all. They not only provide healthcare facilities but also do so in very affordable charges. These private hospitals are providing good health care facilities to all , making it less troublesome for people to get servic